Article in the local newspaper Sulinger Kreiszeitung
If he could, he would immediately book a plane ticket to Namibia. For almost two years, Arthur Rohlfing has not been back to the country where all his aid goes. So it's more likely to be driven by ship, like the red twenty-foot container that's now waiting there on the premises of Sulingen-based freight forwarder Henri Wortmann to get underway.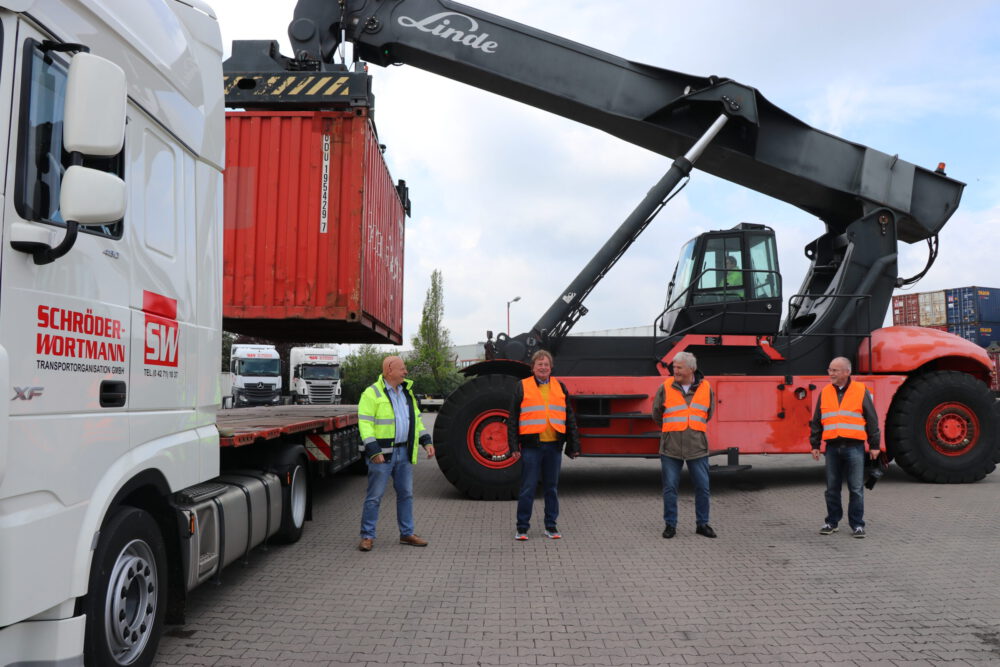 The container is filled to the brim with donations for the Coastal High School. According to the association "Sonnenkinderprojekt Namibia" (Namibian Sun Children Project), 32 teachers teach around 800 students in grades 8 to 11. The association, which is based in Schwaförden and was founded in 2003, aims to "support and promote as many girls and boys as possible at the schools in Namibia".
Initiator and driving force Arthur Rohlfing collects these donations very specifically. Because he does not want to travel to Namibia as a gift uncle, but prepares what is needed. During the Corona pandemic, there were no visits, but the association made it possible for "their" students and their families to receive a better supply of food. The German association is always within earshot for the needs in Namibia.
Arthur Rohlfing explains the background of the donations that are now being sent on their way: "At the Coastal High School, there are career prospects for the students, most of whom come from DRC, the poor district of Swakopmund. Since 2018, the school has been supported by the Sonnenkinderprojekt. According to Rohlfing, students who want to earn a high school diploma transfer to Namib High School in Swakopmund, also one of the association's partner schools, for grade 12. All other students continue their education at Coastal High in a technical branch. They are taught and trained in the areas of car repair, electronics, bricklaying, wood, woodworking, nursing, fashion/textiles, and the restaurant and hotel trades. Rohlfing says that the hospitality industry is particularly important, as the majority of jobs can be found in this industry.
Arthur Rohlfing is very grateful to all donors: The Dr. Jürgen Ulderup Vocational Training Center donated four Active Boards (multimedia "blackboards") for classroom use. "This is a very important donation". The school in Swakopmund could not afford such boards. But especially in the technical area, such a board offers "immense possibilities" for education. Especially in combination with another donation: The Rotary Club of Stemwede-Dümmer contributed 44 bicycles in good condition. "Many students at Coastal High School have a school commute of up to eight kilometers. That has to be done on foot, and some get up at 4 a.m. to do it," Rohlfing explains. If knowledge of two-wheeled technology can now be taught, the students could not only repair their own bikes, but also those of others. And earn a living doing so in the future. This kind of help for self-help is important to Arthur Rohlfing and the Sonnenkinderprojekt.
The sports clubs TUS Sulingen, FC Sulingen and TV Neuenkirchen donated 127 soccer jerseys, 61 leather footballs, sports pants, backpacks and drinking bottles.
A special thank you goes to the forwarding company Henri Wortmann from Sulingen. Once again, they have made their premises available and will ensure that the container arrives safely and reliably in Hamburg or Bremerhaven for loading onto a container ship: "Such commitment is not something that can be taken for granted," emphasizes Arthur Rohlfing. Günter Lehmkuhl, second chairman of the association, is currently taking care of all customs formalities so that a driver from the shipping company can take the container to the ship. The shipping down to Walvis Bay will take about four weeks. The container will remain in Namibia and provide a safe place to store tools and other equipment at the school. So what is the current situation in Namibia, in terms of Corona, vaccination and such? "There is vaccination, but it's not really structured. There's a little bit of all the vaccines there. A lot of the tourism industry is still dormant, though. We hope that by 2022 they will have reasonably normal conditions again so that we can fly down," reports Arthur Rohlfing. What is the situation at the schools? Distance learning in Namibia, he says, means that assignments are sent via WhatsApp, and those who don't have an electronic means of receiving them – no line or device – name the next recipient, perhaps a neighbor. "There's a lot of mutual help there. I admire how Namibians cope, how they look after each other."
The original article in German can be found here: https://www.kreiszeitung.de/lokales/diepholz/schwafoerden-ort59235/hilfreiche-fracht-fuer-namibia-coastal-high-school-swakopmund-sonnenkinderprojekt-schwafoerden-90653706.html